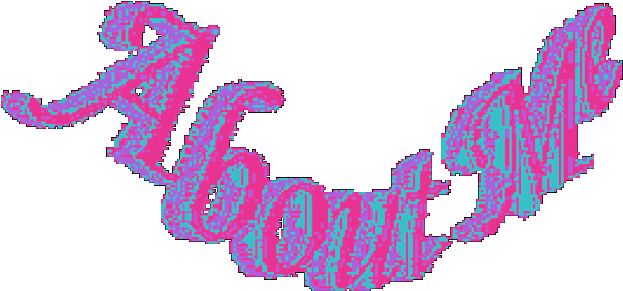 ADRIAN + 22 + HE/HIM + EN/ESP OK!
HEY! I'M ADRIAN, BUT PEOPLE ONLINE CALL ME ROCKY (OR ANY VARIATION OF ROCKTYPE). I'M MAKING THIS PERSONAL SITE TO LEARN HTML/CSS, AND BECAUSE I LOVE HOW CREATIVE PEOPLE ARE WITH THEIR WEBSITES HERE! I ALSO FEEL LIKE MODERN SOCIAL MEDIA IS REALLY BORING AND I HATE DEALING WITH ~THE ALGORITHM~ SO I'LL PROBABLY SHARE THINGS I MAKE/LIKE ON HERE.
MEXICAN/VENEZUELAN
HOBBY DIGITAL ARTIST
+ MUSIC ARRANGER
I PLAY PIANO/TROMBONE
COMPSCI STUDENT
I LIKE NEON COLORS
AND FUNKY MUSIC
I KNIT + CROCHET
+ CROSS STITCH
ZOMBIELAND SAGA
NIGHTS INTO DREAMS
SPACE CHANNEL 5
YUGIOH DUEL MONSTERS
CASTLEVANIA (THE GAMES)
SKYWARD SWORD
VA-11 HALL-A
YUPPIE PSYCHO
MGS, KH, AITSF
I DIDN'T MAKE ANY OF THESE, BUT I TRIED TO LINK THEM BACK TO THEIR CREATORS IF I WAS ABLE TO FIND THEM.